So far I have played 30 hours of Battlefront 2, significantly more than I spent with the 2015 entry and have had some time to reflect on the criticism the game has faced. Largely the consensus has been "the progression is broken" and "microtransactions are bad", so here I'd like to go into a bit more detail about what is wrong (and right) in BF2. And there is a lot that is wrong.
The removal of microtransactions has actually done very little to change the game's problems. It is still very disheartening (often to the point of hitting Alt-F4) to be defeated by a player with Star Cards that are many levels above yours. Sure, maybe one day you can be as strong as that player, but that might be tens of hours away – and probably never. The design choice to surface the Star Cards your killer has equipped is an interesting one, and I suppose at least I can tell myself I was beaten because the other player was objectively better but it still leaves me with a bitter taste.
This knowledge would not be so tormenting if achieving the same Star Cards as another player felt achievable, which it absolutely does not. The random nature of the loot boxes combined with the minuscule quantities of credits and crafting parts that get doled out mean the yields are at best small and at worst irrelevant. This could have been somewhat mitigated by adding the ability to breakdown unwanted Star Cards into credits or crafting parts, but instead the player is left with a majority of Star Cards for classes and heroes that are never used.
The only glimmer of control players have is to use crafting parts to craft or level up cards of their choosing. This is nice as it allows focused improvement of the stuff you actually use, but the aforementioned scarcity of crafting parts means that satisfaction here is severely limited, minimising the feeling of useful progression virtually to zero. It also means the best thing you can get from a loot box – crafting parts – is the most boring.
(It's also worth adding here a general frustration with class-based, first person shooters: if you spec into a particular class – e.g. assault – but a particular situation, like holding a point, would be better suited to the officer class, if you pick the officer you will be left using an underpowered soldier. This discourages optimally playing to the objective – more on this later)
Further to this, there is very little point in an average player spending the relatively huge amount of credits needed to make the cool hero characters like Luke Skywalker and Darth Vader available. In order to actually play them in a round, you have to gain a certain number of battlepoints (distributed based on performance). Very often you will not accrue enough points to play as them, and even if you do there is a high chance another, better player is using that hero which makes it again unavailable. This is despite the fact that you often don't see these heroes trying to play the objective. Perhaps they are just hiding in a corner enjoying the fact they finally got to play as their hero of choice and don't want to risk dying… Anyway, my credits would have been better spent (again, relatively) on loot boxes to at least give me a chance to upgrade my basic classes. I didn't know this when I first started playing and the game does nothing to even tell you that you are making the choice of "Heroes v.s. Class Progression".
In addition to progression issues, there are some real problems with the structure and set-up of the rounds themselves. I mainly play Galactic Assault, the large 40 person game mode, which is the game's flagship.
To kick us off, the desire to get a hero (mentioned above) often encourages players to lose certain objectives to avoid winning, lengthen a match and give them enough time to get enough points to play the hero they spent so many credits on. This is quite stupid, but I can't suggest a way around this because it is baked so fundamentally into the game. Similarly, credits are administered at the end of a match based on the length of the match and not on whether you win. So again you are encouraged to drag the match out and lose rather than winning. What were they thinking?
Secondly, some of the objectives are so banal they actively discourage players from attempting them. Several involve "hacking" a terminal by holding G. For two minutes. You can't shoot to defend yourself, or do anything, while taking the objective. Who the heck wants to do that?!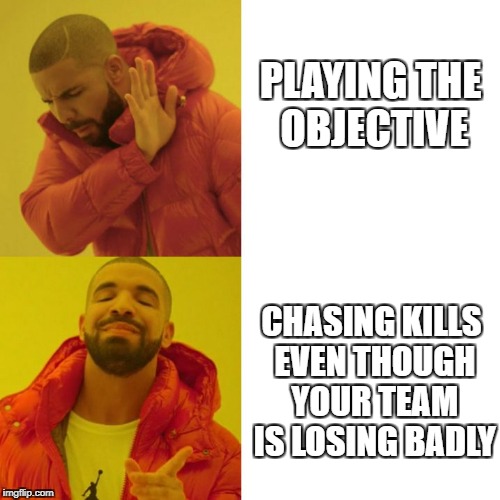 Finally, there are some serious quality-of-life issues that further limit my enjoyment. Text chat is disabled after a round, preventing any kind of post-mortem, congratulation or anything else. Presumably this is to try to stop people from getting toxic, but they can do that plenty within the chat while the round is going on. There are also spots of downtime where you can't look at the leaderboard, which again is just silly.
More frustratingly, on the waiting screen after you have picked a class or hero, YOU CANNOT LOOK AT YOUR ABILITIES despite often just staring at this screen of 10 seconds doing nothing. This is one of the craziest to me, because it forces you to wait until you are in the round, when you could be helping or getting shot at, to look at the screen that tells you what your hero can actually do. Again, this discourages experimentation and continues the general theme of BF2 forcing you down very narrow play-style choices.
Well, I'm glad I got all that off my chest. Despite everything I have said above, I keep going back to Battlefront 2 in a way that is confusing even to me. The urge to play it will not go away. Maybe it is because the game looks fantastic. It sounds fantastic. I am unashamedly a Star Wars fan and interacting with this universe, even with all the problems, garners a sense of childlike glee. The gameplay itself can also be quite engaging, and does deliver a sense of satisfaction when you start to feel the force and contribute to the success of your team.
The game has imminent DLC and there have already been two patches, so there is hope that some of my complaints will be addressed. So far it is enough to keep me going. My time with Battlefront 2 is not over yet. The saga continues.